Nature's Bounty: Summary 1.
Where are we?
As soon as Toby built the tree we thought it looked like the Christmas tree so we decided to make it into a Christmas tree! The apples are our baubles, we hope to spray some gold.
I had experimented with how to fasten the apples to the tree. I tried out different ways to hold the apple on the tree whilst making it easy to pick.
The hook was no good as it yanked the tree, wouldn't come off or fell off.
The magnet works well as long as we don't pull sideways and pull the tree over. Dad had used wire to try it out which was ok but didn't look great until Mum suggested using her sparkly pipe cleaners!
They wrapped round the branch with a piece folded at the end to hold the apple on.
The pipe cleaners also look like tinsel! So we used lots of different colours. After all, why not? It is the Christmas holidays!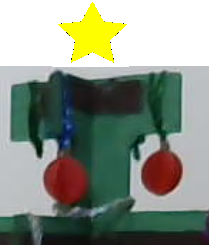 How do you think it looks?
What needs to be done?
As it says on the tips page of the pi wars page, its best practise driving your robot often. If you look at the 'Test Driving Nature's Bounty' post, it shows how long it took to collect some apples. In the actual competition, you have to collect all the apples from the entire tree 3 times in a 5 minute time limit. We need to speed up a bit!
Links:
http://www.thelemmingfarm.uk/?p=739 : Test Driving Natures Bounty
Please follow and like us: