Construction of the Arena
This is a post about how we made our arena. Sadly, it does not look quite as cool as the image below:
2 Weeks Ago…
Today (Saturday Afternoon), Dad and I started building the competition base, but we didn't just start building.
First we collected a load of old flat planks of wood, that have just been sat in the garage collecting dust, and dad's power tools.
Then, using a long tape measure, we marked where we were going to cut on our pieces of wood. We did not have a piece of wood exactly 150cm by 150cm, instead, we had 2x120cm pieces of
wood, so we marked out 2x 120cm by 30cm pieces, and 1x 30cm by 30cm piece. Put together, this would give us a board, sized 150 by 150, with a height – or z coordinate – of 10mm. To keep it held together, we cut wooden blocks,
to make a hashtag pattern (#), with the ends of wood, in the corners. This covered all the seams of where we had put the wood together, and helped
support the wooden panels.
However, if we left it like this, it wouldn't stay together for very long – we hadn't used any nails or glue!!!
So, we drew round the wooden support blocks, so we could make little crosses that marked where we need to drill.
We started to drill (using a 4ml drill bit).
However, before we could finish drilling the holes, it went too dark for us to see what we were doing.
Last weekend (Sunday).
Today, we finished drilling holes, and then went round with a counter sync drill bit, so the nail would sit comfortably, without being slightly above the height of the wood, as this could wear away the carpet tiles we are planning to put on top. We also drilled in the nails.
After that, we went round with the sander to smooth down the top, and remove the stray splinters. We also planned down the sides of the arena to make it smooth all the way round, and exactly 150cm or 1.5 m by 150cm or 1.5m.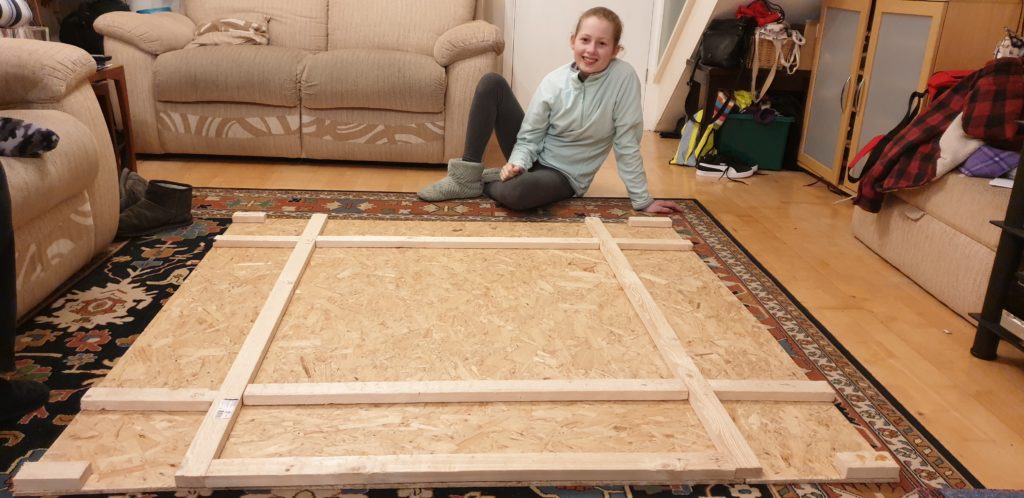 Now we just need to add sides to stop us driving off the edge – we don't have a crash helmet for our robot. Our sides will be painted like a fence. We have also brought some carpet tiles to represent: grass; mud; the barn – starting place; and pen – for The Shepherd's Pi challenge.
Please follow and like us: